Media Release
10 June 2019
PRISON FARMS SPARK RESISTANCE
Activists to hold weekly vigils until prison farms do no harm
KINGSTON, ONTARIO – The introduction of beef and dairy cows at Joyceville and Collins Bay Institutions has sparked public controversy. Justice advocacy group Evolve Our Prison Farms announced today it would begin holding weekly vigils in front of Collins Bay Institution every Tuesday from 5-6pm, beginning June 11, to highlight their concerns over the new prison farms.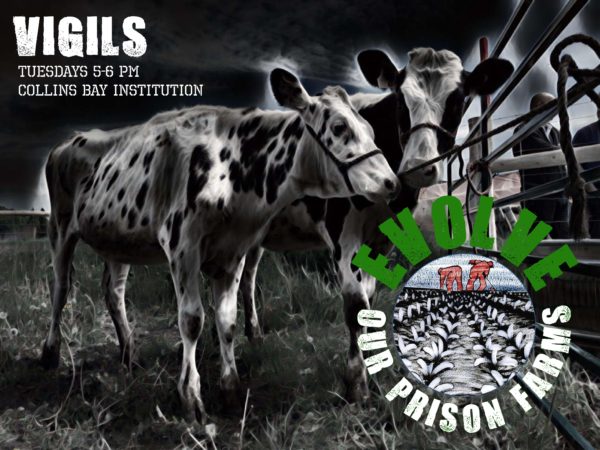 "This is just the beginning of the resistance," says Calvin Neufeld, co-founder of the campaign that started in Kingston in 2016 with a few prison farm activists and academics and has since ballooned to thousands of people from every province in Canada.
The group questions the government's decision to introduce beef, dairy, and a goat factory farm to produce raw milk for Chinese infant formula exports. They have filed Access to Information requests to reveal the decision-making process, and reported contraventions of the Conflict of Interest Act to Ethics Commissioner Mario Dion.
"It's time to Evolve Our Prison Farms," says Neufeld. "In light of the climate emergency, Canada's new Food Guide, and evolving social attitudes towards prison labour and animal welfare, prison farms should adopt an innovative approach to penal agriculture and a no-kill approach to animal therapy."
Making evidence-based decisions is a core mandate of the Trudeau government, which recently described climate change as "the most pressing issue of our time."
"Animal agriculture is a top contributor to climate change and beef and dairy are slaughter industries," Neufeld points out. "This is the wrong model for a federally funded program intended to promote rehabilitation and teach empathy."
Unlike the former prison farms, shuttered by the Harper government nearly a decade ago, the new farms won't feed prisoners due to CSC's Food Service Modernization, the outsourced "cook-chill" service that has been sharply criticized by Correctional Investigator Ivan Zinger. Seeking external markets, CSC opted for industrial goat dairy as the core operation of the new program. Up to 2000 goats will be farmed in a contained facility at Joyceville, reportedly to supply China's top infant formula producer Feihe International.
Evolve Our Prison Farms has submitted three petitions with over 14,000 signatures. One was sponsored by Green Party leader Elizabeth May, another by Kingston MP Mark Gerretsen. The petitions call upon the government "to establish prison farms that prioritize ecological sensitivity and climate change solutions, and to prevent use of animals in rehabilitation programs except under sanctuary or animal therapy models."
Evolve's Postcard Campaign to Minister of Public Safety Ralph Goodale has seen 17,000 postcards mailed by citizens and prisoners across Canada. Last month, over 1,000 people emailed Minister Goodale with Evolve's message that "Canadians want ethical prison farms."
The Evolve campaign is led by a mother-and-son team, Franceen Neufeld and Calvin Neufeld, who have histories in various areas of social justice including LGBTQ support, anti-bullying education, and farmed animal rescue.
The weekly vigils for ethical prison farms will be held every Tuesday from 5-6pm in front of Collins Bay Institution. All are welcome.
– 30 –