Bloody Bad Business: Report on the Joyceville Institution Abattoir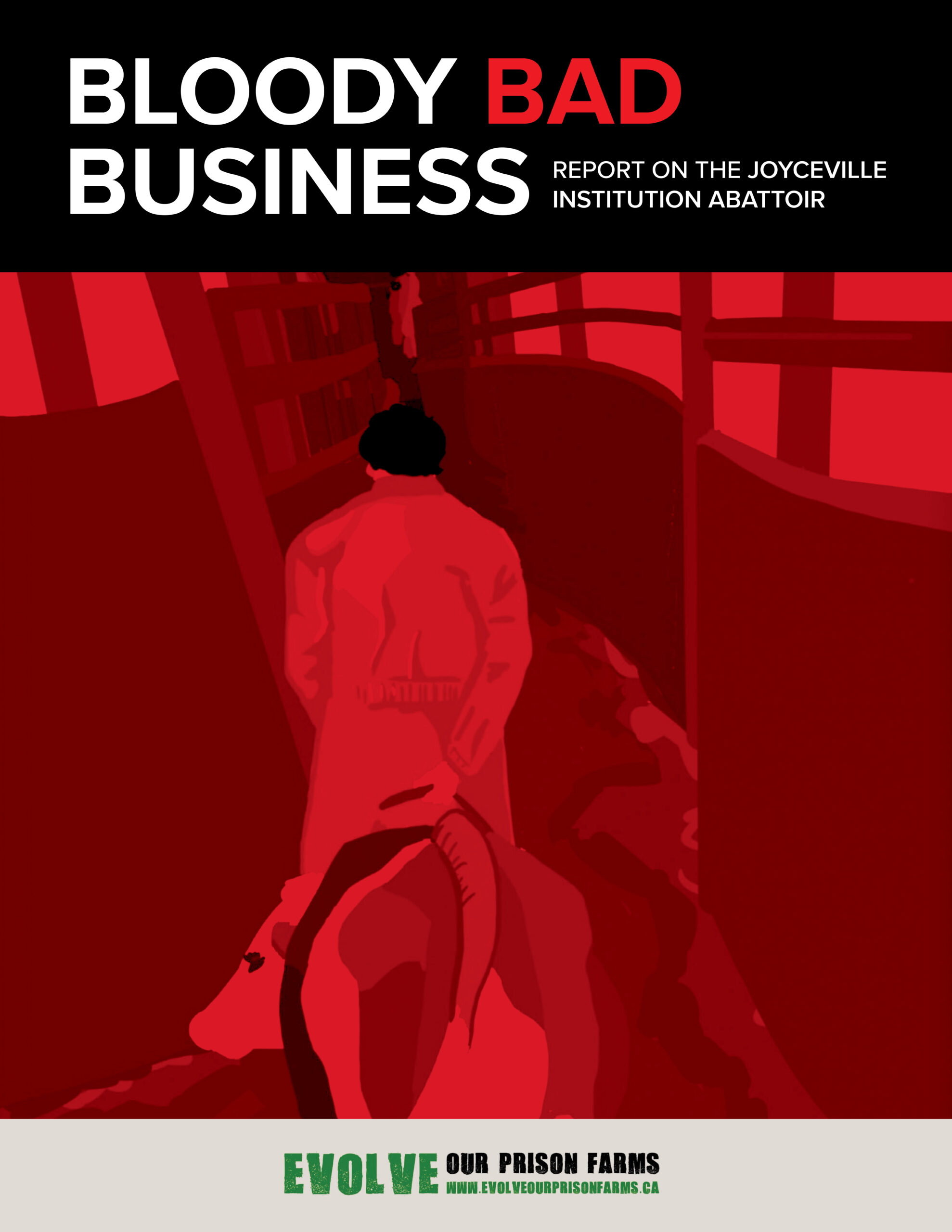 Aug 25, 2022. A new report has been published documenting years of violations at Canada's last remaining prison abattoir. Submitted to the Correctional Service of Canada (CSC) and the Public Safety Ministry, Bloody Bad Business: Report on the Joyceville Institution Abattoir (2nd ed) features never-before-seen documentation exposing a spectrum of infractions at this federally owned abattoir where prisoners kill for a private company, Wallace Beef Inc, in a commercial slaughter operation labelled "offender training."
Years of research by advocacy group Evolve Our Prison Farms reveal not only the routine horrors that prisoners and correctional staff face in slaughter work at Joyceville Institution, but also the grave and widespread ethical, contractual, regulatory, institutional, legal, and human rights violations spanning the 27-year partnership between CSC and Wallace Beef Inc. With the present abattoir operator retiring and the current contract set to expire next month, it is anticipated that the abattoir will close unless the federal government intervenes to facilitate a new licence for a new company to keep prisoners killing for the meat industry. According to the provincial government, this would require "a huge influx of money" to bring the dilapidated facility up to current code.
The Joyceville abattoir was slated for closure in 2011 but the National Farmers Union and other industry representatives lobbied the federal government for its preservation since the prison labour service allows private sector farmers to "realize more profitability in their businesses."
Bloody Bad Business documents the frustration of correctional staff who complain about the stress and expense that the abattoir places on the institution, their decades-long attempts to close the abattoir, as well as objections that were raised, unsuccessfully, over the placement of violent prisoners in the abattoir.
On April 8, 2022, Public Safety Minister Marco Mendicino told the House of Commons that the abattoir provides prisoners with the "tools" they need to safely reintegrate. The established research, however, contradicts this claim. Slaughter work is directly correlated with increases in crime, domestic violence, substance abuse, and unemployment.
Aside from the fundamental inappropriateness of training prisoners to kill, and the violation of human rights in associating coerced and underpaid prison labour with a commercial enterprise, CSC's abattoir is rife with violations that would sink any business not kept afloat by federal subsidies and political protection. These newly exposed longstanding violations include illegal activities, drug use and contraband smuggling, improper slaughter, animal abuse, operating without a contract, dumping abattoir blood into the prison's water treatment plant, and spraying blood across the fields around the prison, on the banks of the Rideau River Watershed.
The current contract between CSC and Wallace Beef Inc expires September 30, 2022.
*UPDATE: The Correctional Service of Canada did not renew its contract with Wallace Beef Inc. The Joyceville Institution Abattoir has been closed since September 30, 2022.*
Bloody Bad Business: Report on the Joyceville Institution Abattoir (2nd ed) is available for download here.
Contact:
Calvin Neufeld (author and primary researcher)
Founder, Evolve Our Prison Farms
613-706-0090
info@evolveourprisonfarms.ca
The first edition of Bloody Bad Business, published in August 2021, is available here.
MEDIA
Prison farm group critical of Joyceville Institution abattoir, Kingston Whig-Standard, August 29, 2022
Letter to the Editor: Documents tell another side of the story, Kingston Whig-Standard, September 13, 2022
'Bloody bad business': prison reform advocate calls for Canada's last prison labour-operated abattoir to finally close, The Hill Times, September 26, 2022 [Click here for PDF]
Abattoir at Joyceville Institution now closed, Kingston Whig-Standard, October 10, 2022
Canada's Last Prison Abattoir Has Closed Amidst Accusations of Human Rights Violations & Mistreatment of Animals, Animal Justice, October 11, 2022
Working prisoners are entitled to employment and safety standards just like anybody else, The Conversation, November 24, 2022