Prison Farm Report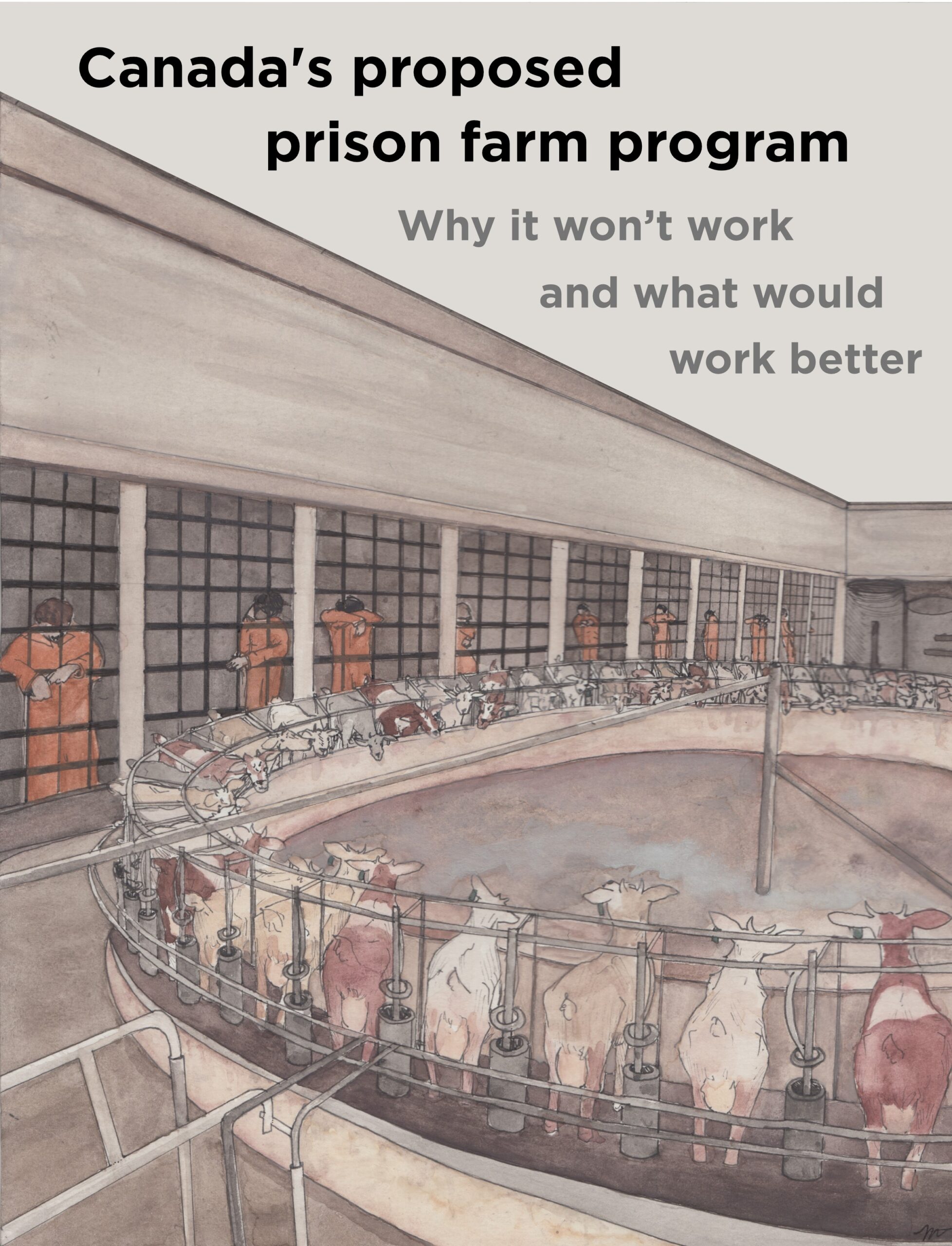 January 31, 2021
Evolve Our Prison Farms has released a new report, Canada's proposed prison farm program: Why it won't work and what would work better.
This report was written by Dr. Amy Fitzgerald, a green criminologist and expert in the use of prison labour in animal agriculture industries, and by Dr. Amanda Wilson, a pioneer in transformative food justice, carceral food systems, and social innovation.
Download the report for an in-depth review of the problems and opportunities facing the Correctional Service of Canada's emerging prison farm program. Read the companion piece published in The Conversation (February 1, 2021) and sign the accompanying PETITION.
Part 1: Deconstructing the foreseeable problems with the planned industrial goat dairy agribusiness (Fitzgerald)
Part 2: Reimagining prison farm possibilities rooted in personal, social, and environmental healing (Wilson)
Evolve Our Prison Farms is a grassroots advocacy group defending against social and environmental harms, and envisioning a sustainable, equitable and feasible prison farm program that addresses the interlocking principles of prisoner justice, food justice, animal justice and environmental justice.
ABOUT THE AUTHORS
Dr. Amy Fitzgerald is a professor of criminology in the Department of Sociology, Anthropology & Criminology at the University of Windsor and the Great Lakes Institute for Environmental Research. She is a founding member of the Animal and Interpersonal Abuse Research Group and a 2020 visiting fellow at Harvard University's Animal Law and Policy Program. She has served on the Board of Directors of the John Howard Society of Windsor for more than ten years. Her research focuses on the intersection of harms (criminal and otherwise) perpetrated against people, non-human animals, and the environment.
Dr. Amanda Wilson is an assistant professor in the School of Social Innovation at Saint Paul University in Ottawa. She holds degrees in sociology, labour studies, and political studies, specializing in sustainable food systems, food movements, and alternative agriculture. She was previously an organic farmer, leading to a solid understanding of fruit and vegetable production, crop planning, market analysis and soil analysis. Her research focuses on food policy and governance, social change, and enacting a politics of possibility.
The Conversation: The Correctional Service of Canada's goat plans won't help inmates (Feb 1, 2021)
National Post: The Correctional Service of Canada's goat plans won't help inmates (Feb 2, 2021)
University of Windsor Daily News: Report suggests alternative to prison goat farming (Feb 3, 2021)
The Kingston Whig-Standard: The Correctional Service of Canada's goat plans won't help inmates (Feb 11, 2021)
Ontario Farmer: Report finds no evidence in support of prison goat farm (Feb 16, 2021)
Frontenac News: New report questions goat dairy for prison farm (Feb 17, 2021)
Toronto Star: Prison animal farms are ineffective and unethical (Feb 21, 2021)
The Lawyer's Daily: Corrections Canada building goat farm for the prisoners it's torturing (Feb 25, 2021)
Frontenac News: Former Inmate, President Of Ontario Goat, Question 'Prison Farm' Logic (Mar 3, 2021)
Free From Harm: Prison Farms Got Your Goat? (Mar 5, 2021)
The Kingston Whig-Standard: CSC suspends plans for goat farm at Joyceville Institution (Mar 5, 2021)
The Hill Times: Scandal brewing over feds' prison farm plan (Mar 8, 2021)
Class Action News: Stop the Prison Industrial Goat Farm! (Spring 2021)
The Hill Times: CSC should abandon its industrial goat farm fiasco (Apr 5, 2021)
The Hill Times: Years later, still looking for clarity on Correctional Service Canada's prison farm plans (Apr 12, 2021)