JOIN THE TEAM
Volunteer Positions:
Evolve Our Prison Farms is seeking part-time and temporary volunteers in the following areas:
Outreach
Social media
Graphic design
Web development
Podcast production
Marketing
Business case development
Other: how can your unique skills help Evolve Our Prison Farms?
Application process is informal. Fill out our volunteer form or contact:
Calvin Neufeld
Founder, Evolve Our Prison Farms
info@evolveourprisonfarms.ca
Business Case for Ethical Prison Farms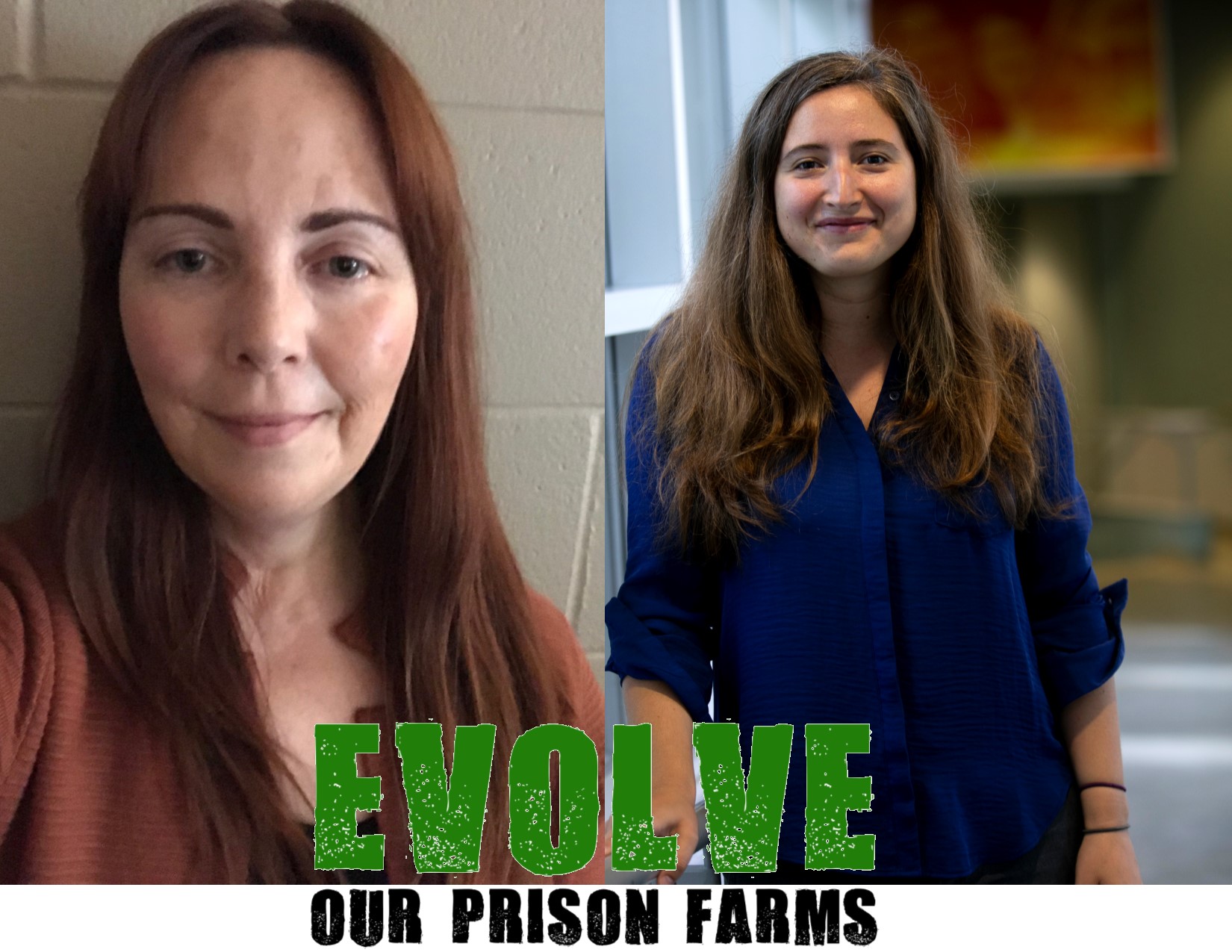 JUNE 2020: Evolve Our Prison Farms has hired two exceptional consultants to create our ethical prison farms business case.
Dr. Amy Fitzgerald is a leading expert in the psychological toll of slaughter work and the use of prisoners in animal agriculture.
Dr. Amanda Wilson is a pioneer in transformative food justice, carceral food systems, and social innovation.
Our business case will be a two part product:
Part 1: Deconstructing the current model (Fitzgerald)
Exposing the problematic nature of a for-profit institutional agribusiness using prison labour in slaughter industries and an intensive livestock operation selling milk to the private sector and potential export markets.
Part 2: Constructing a social justice model (Wilson)
Envisioning a sustainable, equitable and feasible prison farm model that addresses the interlocking principles of prisoner justice, food justice, animal justice and environmental justice.
Dr. Fitzgerald is an associate professor in the Department of Sociology, Anthropology & Criminology at the University of Windsor and the Great Lakes Institute for Environmental Research. She is a founding member of the Animal and Interpersonal Abuse Research Group and has served on the Board of Directors of the John Howard Society of Windsor for more than ten years. Her research focuses on the intersection of harms (criminal and otherwise) perpetrated against people, non-human animals, and the environment.
Dr. Wilson is an assistant professor in the School of Social Innovation at Saint Paul University in Ottawa. She holds degrees in sociology, labour studies, and political studies, specializing in sustainable food systems, food movements, and alternative agriculture. She is an experienced organic farmer with a solid understanding of fruit and vegetable production, crop planning, market analysis and soil analysis. Her research focuses on national food policy, social change, and enacting a politics of possibility.
Outreach & Advocacy Coordinators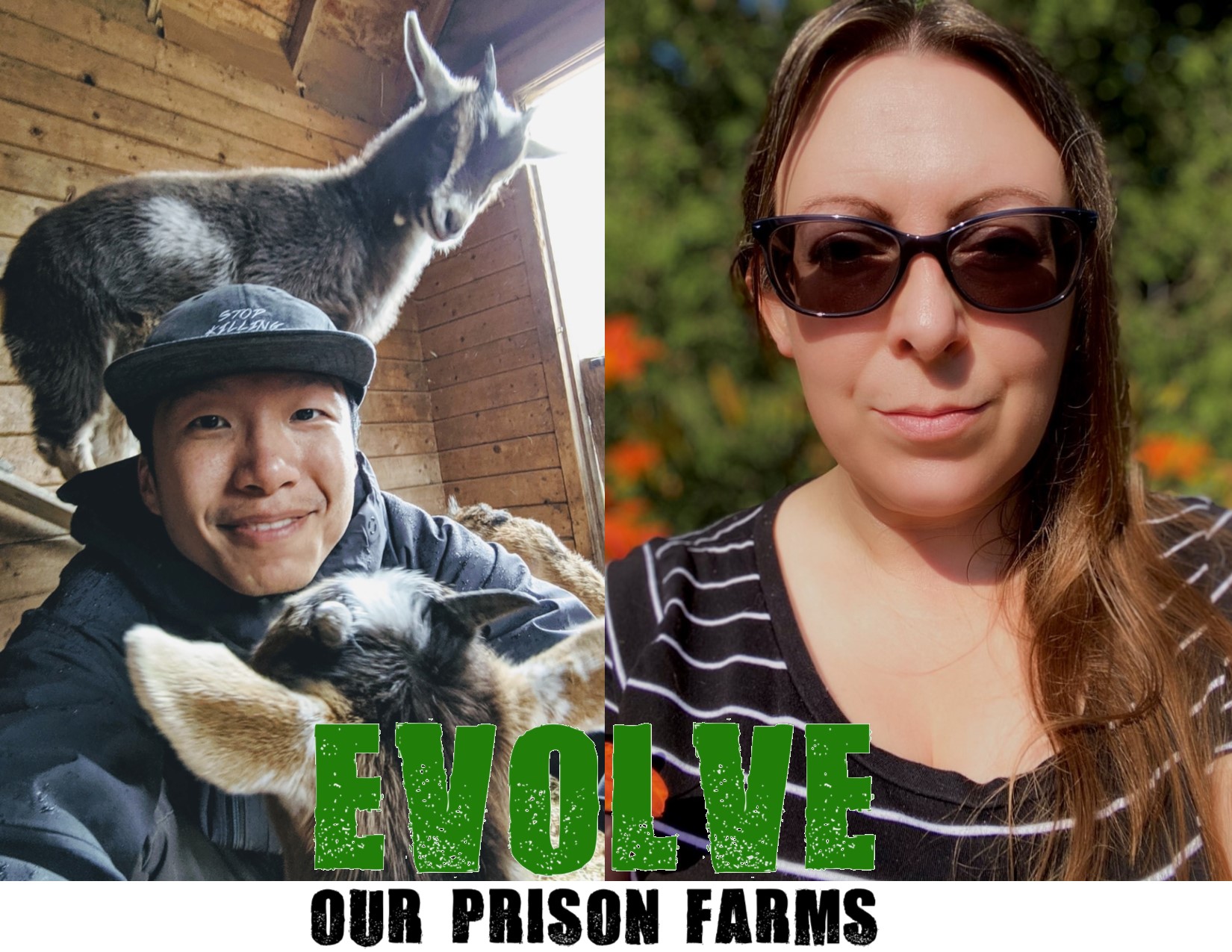 JULY 2020: Evolve Our Prison Farms has hired two experienced Outreach and Advocacy consultants.
Darren Chang and Julia Miller will be coordinating our activism strategies and volunteer engagement.
Darren Chang holds an MA in political theory and critical animal studies from Queen's University in Kingston, where he researched under the supervision of philosopher Will Kymlicka. His research interests focus on animal liberation in the contexts of colonialism, and how to build solidarity and practice mutual aid across species to challenge oppressive powers and defend against the destruction of our shared world. Darren currently resides in British Columbia. (Photo taken at The Happy Herd Farm Sanctuary)
Julia Miller is a Research Coordinator at Queen's University. A passionate supporter of Evolve Our Prison Farms, Julia has also been involved with 350 Kingston, Green New Deal Kingston, Anonymous for the Voiceless and other local advocacy groups. She is a community organizer and educator inspiring compassionate, conscious and healthy lifestyles. Her research interests include public health, nutrition, trauma, neuroscience, environmental health, social justice, animal justice and climate change.
Julia and Darren are recruiting activists and changemakers who care about Social Justice, Human Rights, Food Security & Sustainability, Public Health, Prison Abolition, Prison Reform, Environmental Justice and Animal Justice.
If you can offer any support as a volunteer please fill out this short survey to let us know what activities or roles fit best for you.
Our Outreach and Advocacy coordinators will be in touch. Together we CAN make a change for the better!